Consultation/Exam
After a review of patient case history, a through exam will be done, and may include an: ortho Nero exam, computerized range of motion study, surface EMG, thermography exam, and x-rays.
Adjustment Techniques
Dr. Spink is trained in a wide variety of techniques, which enable patients from the very young to the elderly to be treated safely and efficiently. These techniques include, but are not limited to: Palmer Package, Gonstead, Sacro Occipital, Thompson Drop, and Muscle Release.
Vertebral Subluxation
The vertebral subluxation is the term applied to a vertebra which has lost its normal position and/or motion in relation to neighboring vertebrae. Vertebrae which do not function properly within the spinal framework generate mechanical stress. This accelerates the wear and tear on the surrounding spinal muscles, ligaments, discs, joint and other spinal tissues. Pain, palpatory tenderness, inflammation, decreased spinal mobility,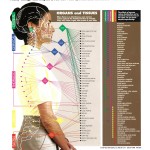 and muscle spasm and hyper tonicity will eventually follow.
The only accurate way to determine if you suffer from subluxations is to receive a chiropractic evaluation. However, a number of signs and symptoms are commonly associated with the vertebral subluxation. Click on picture to view detailed chart.
CranioSacral Therapy
CranioSacral Therapy (CST) is a gentle, hands-on approach that releases tensions deep in the body to relieve pain and dysfunction and improve whole-body health and performance. It was pioneered and developed by Osteopathic Physician John E. Upledger after years of clinical testing and research at Michigan State University where he served as professor of biomechanics.
Using a soft touch Dr. Spink will release restrictions in the soft tissues that surround the central nervous system. CST is increasingly used as a preventive health measure for its ability to bolster resistance to disease, and it's effective for a wide range of medical problems associated with pain and dysfunction.
Orthotics
Fitment for footwear insoles to allow proper skeletal alignment when needed. See http://www.footlevelers.com/ for more information.
Massage Techniques
Swedish
Therapeutic
Deep Tissue
Polarity Massage
Reflexology
Sports Massage
Trigger Point Therapy
Muscular Energy Therapy
Myofascial Release
Infant & Prenatal Massage
Shiatsu
Integrated Neuromuscular Ischemic Technique
Products Used
Total Tea
CryoDerm
Hot Packs
Ice Packs
Back Vitalizer
Natural Calm
Biofreeze
Greens First
Dream Protein